Gabriela Jones and Freddy Thomas had been dating for eight years when they remodeled an old delivery van with solar panels to make a 'home on wheels' in fall, 2016. With no return date set, they drove off into the unknown for the adventure of a lifetime. This is the story of a couple, their dog, and the Boutiq Places discovered along the way...
The couple, originally from Brighton, England, joined what The New Yorker is calling "The bohemian social-media movement" as a way to bring their Yorkie Russell, Rambo, on their adventures. "We couldn't imagine leaving him behind," Jones says. "It just wasn't an option." Thomas, who was an architect at the time, adds that for him "it was about being able to build your own home as well." (The transformation documented on their Instagram is seriously impressive). Freddy and Gabriela downsized their belongings, until everything they owned could fit inside of their Renault Master van. Finding inspiration from Instagrammers like @homesweetvan and @rollinghome, Jones and Thomas took off towards a slower pace of life with 10 outfits each, 15 books and no return date.
One of their first destinations in Brittany, France set the bar high for the rest of the trip. The couple arrived at Pointe de Grouin, the westernmost tip of the Bay of Mont Saint-Michel, in the middle of the night. There was no sign of the moon, only a vague outline of water in the distance. In the morning, they awoke to tangerine and pink cotton candy tones above the sea.
"Wherever you go, you're always kind of on the outside looking in."
This was the moment that confirmed the values of #vanlife Jones and Thomas admire: the connection to nature, the feeling of freedom and a slower pace of life. The couple, who quit their jobs before the trip and lived off their savings, were able to fully take advantage of the lifestyle. However, while #vanlife lets you live life as an adventure on your own terms, it also comes with its challenges, Jones and Thomas admit. "You can meet a lot of people on the road, but also, you're never really in one place that long," Thomas says. "Wherever you go, you're always kind of on the outside looking in."
Although Jones and Thomas often found the friendships with locals or others in the #vanlife community to be fleeting, they still appreciated and valued their interactions, which Thomas compares to being at a festival. "You learn to accept that you're just here in this moment, so you just enjoy that moment with these people," Thomas says. "Then you're not wanting it to be anything more or less than it is."
Despite feeling distanced from others at times, the couple explains that the #vanlife community still feels unifying, especially in places like Praia do Barranco Beach, also known as "Hippie Beach," in Algarve, Portugal. Jones and Thomas arrived to find about 50 vans stretched across the parking lot across from white sand and turquoise water in the distance, and thought "we're in the right place." Situated near valleys and mountainsides, Praia do Barranc's views are just as appealing as its surfing.
In addition to surfing, Thomas played guitar, Jones sketched and colored, and both read and took photos for social media. To the couple's surprise, their Instagram account, @yinyangdogvan, which was originally created to keep in touch with friends and family, reached 10.2K followers.
"You learn to accept that you're just here in this moment...to just enjoy that moment with these people."
Out of all their experiences, Jones and Thomas seem to have fallen in love with Morocco the most – even with the culture shock of camels causing traffic jams, and having to bribe a police officer to get out of a speeding ticket! The couple agree there is a warmth to the people and recall how locals often invited them into their homes for tea. Even sandboarding on the vast Saharan dunes of Erg Chebbi, and exploring the pisé clay architecture in Aït Benhaddou Kasbah, a fortified city and UNESCO World Heritage Site near Ouarzazate, can't compare to the beauty of the Moroccan people (although they come close).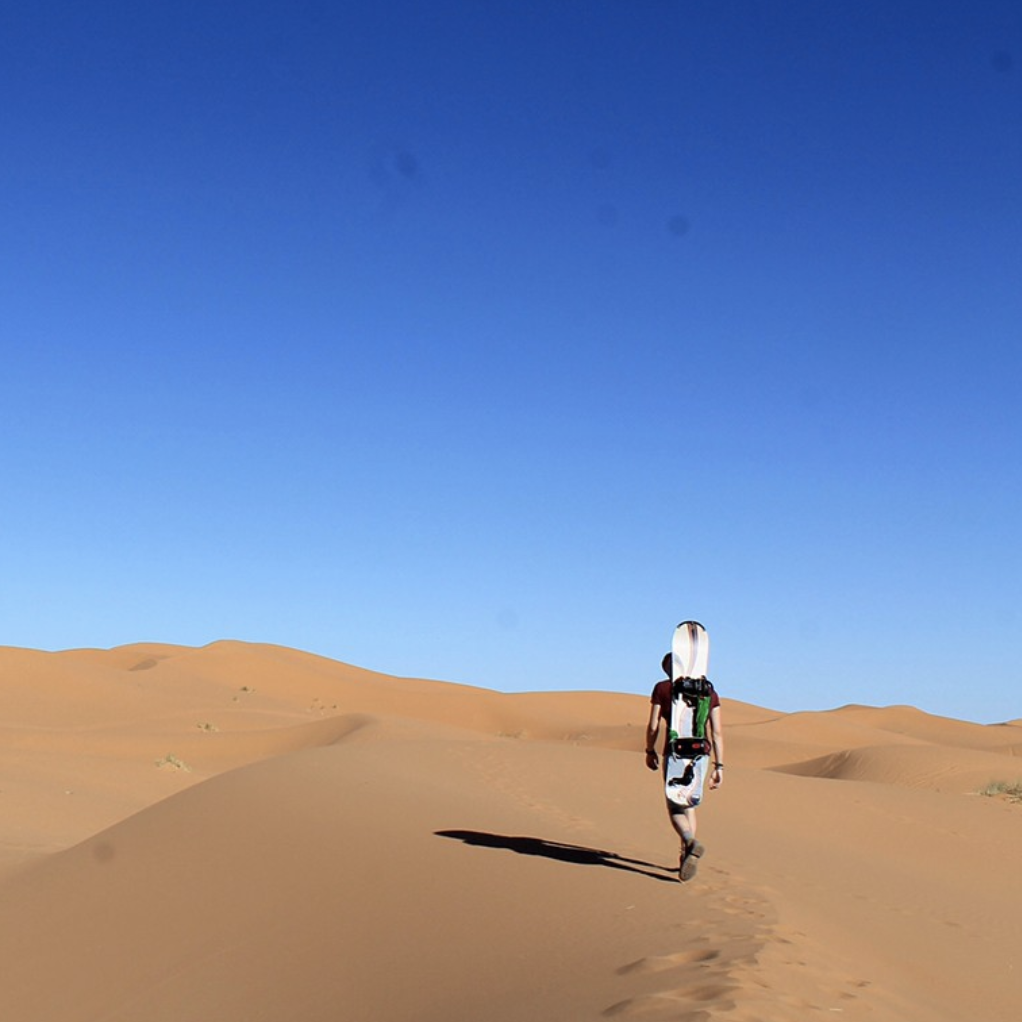 After covering 15, 000 miles through France, Spain, Portugal, Italy and Morocco, the nomads returned home after six months. The couple is trying to find a balance between settling in Bristol, England, where they now live, and continuing the #vanlife dream part-time for a few months each year. After all, #vanlife is a way of life, not just a short part of it...
You can discover and save Freddy and Gab's places on Boutiq, the app for recommending your favourite places to your friends and followers. Use it as a memory bank for your amazing discoveries, and the best way to find hidden gems. Where will your network lead you?